When we think about brands that have endured and thrived – brands like Apple, Coca-Cola, and Nike - we think about the logos, the tag lines, and the advertising associated with those brands over decades. We know that Apple wants us to 'think different,' Coca-Cola wants us to 'taste the feeling,' and Nike wants us to 'just do it' because that's what their brand messages have told us. The visual and linguistic cues have been meticulously crafted and adapted throughout the entire lifetime of the company as part of the brand strategy. Now those brands serve as shortcuts to remind us about the role their products play in our own lives. Looking at the power and benefits of an effective brand makes it clear that all companies should take a strategic approach to building their brand and creating brand value.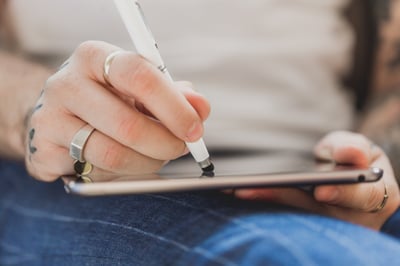 By conducting a thorough audit of the brand story, brand identity, and brand communication, startups and scale-ups can position themselves to effectively connect with their target audiences and develop a brand promise that can help differentiate their organization from competitors.
Do you have the right brand audit framework to create your brand strategy?
Get the Brand Audit Checklist and start building your brand value today.
A brand can be segmented into three key components that piece together like a puzzle to create a picture of a company.
Brand Story is the messaging that you share about your organization. Messages can be as simple as a tagline or slogan, or as complex as a company history or technical product description. Your brand story conveys the key messaging points that clearly identify what your company does, who you do it for and why it matters. It includes the "tone and voice" that represents the approach and attitude you use in talking with audiences. Your brand story should tell people why you are a better choice to bring value to their lives.
It is important to remember that people may shop for features, but they buy the benefits that help them solve their issues or make their lives better. People buy on emotion and validate their buying behaviors with data. Brand story should speak to customers in a combination of both emotional and data-driven messages to help audiences connect with your organization. Tell people how you will impact their lives in a way that resonates with them.
Brand Identity is the visual representation of your brand, found in brand assets including logos, color palette, typography, letterhead and more, often documented in a style guide that, when used with consistency, creates an immediate connection to the brand. These are the assets that create the shortcuts that remind people of the brand message and brand values they connect with the company. A powerful brand identity can actually be considered as intellectual property for an organization.
Brand Communication is the way a company reaches audiences to spread brand stories and brand identity to connect with customers. From online ads and websites to printed brochures and sales presentations to speaking events and sponsorships, a mix of paid, earned and owned media across an assortment of communication channels and media formats delivers clear, concise and consistent messages to reach and resonate with audiences, generating awareness, interest, and engagement.
Brand audits should be conducted regularly as part of the brand strategy created by all companies of every size and at every stage of the business lifecycle. For startups, performing a brand audit early on identifies and evaluates the materials that can anchor a new relationship with audiences and customers, and reveal hidden mistakes and problems before they multiply over time. For scaleups, a brand audit can reveal the best ways to invest in your brand to help you accelerate growth. For more mature organizations, a brand audit can be invaluable for understanding the true value of your brand, and where updates or a brand refresh might be important to your growth. At every stage of a business, a brand audit makes good business sense.
Reviews of online assets, including the company website, social media accounts, audio and video media, online ads, and thought leader content
Reviews of offline assets, including sales materials, corporate identity materials, and other internal and external documents and presentations
Evaluations of the customer experience, including sales process, customer support process and customer-facing policies and procedures
Surveys of brand perception from customers, employees, and others
It is important to always remember that the company's values are the thread that runs through every piece of its brand. Those values must be communicated with clarity and consistency to create relevancy to the customer or stakeholder and reinforce the company's promises. Taking stock of the messages, materials, and media used to represent your brand, a company can cut through the noise and carve out top-of-mind positioning with customers, adding value to the company today and for years to come.
A brand audit is an essential part of your growth toolkit. Get more growth tools here.